Shop
SPORTBOEKEN - SPORTSBOOKS - SPORTANTIQUARIAT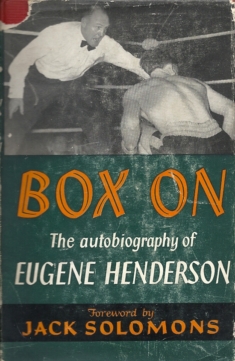 klik op foto voor vergroten
Box on
Slechts 1 resterend op voorraad
Omschrijving
As amateur boxing champion, professional fighter and 'Star' referee, Mr. Eugene Henderson has spent a lifetime on the inside of big-time boxing. This is his autobioghraphy. Foreword by Jack Solomons.
Subtitel
The autobiography of Eugene Henderson
Bindwijze
Linnen met omslag
Extra informatie
A good book with a damaged dustjacket, some browning.
Product Description
As amateur boxing champion, professional fighter and 'Star' referee, Mr. Eugene Henderson has spent a lifetime on the inside of big-time boxing. This is his autobioghraphy. Foreword by Jack Solomons. Box On