Shop
SPORTBOEKEN - SPORTSBOOKS - SPORTANTIQUARIAT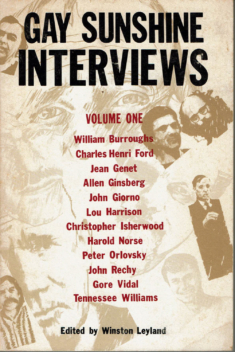 klik op foto voor vergroten
Gay Sunshine Interviews Volume 1
Slechts 1 resterend op voorraad
Omschrijving
Those interviewed by Winston Leyland and others are William Burroughs, Charles Henri Ford, Jean Genet, Allen Ginsberg, John Giorno, Lou Harrison, Christopher Isherwood, Harold Norse, Peter Orlovsky, John Rechy, Gore Vidal and Tennessee Williams. The interviews were originally published in Gay Sunshine journal over the several preceding years. Illustrated with black-and-white photographic portraits of the interviewees and the editor.
Auteur
Author Burroughs, William; Genet, Jean; Orlovsky, Peter; Williams, Tennessee; et al. Leyland, Winston; editor
Uitgever
San Francisco, Gay Sunshine Press
Extra informatie
Minor foxing. Some wear cover.
Product Description
Gay Sunshine Interviews Volume 1